INTER-FAITH PRAYER SESSION
INTERFAITH (MUSLIM/CHRISTIAN) PRAYER SESSION AT THE DIALOGUE, RECONCILIATION AND PEACE (DREP) CENTRE, JOS, 30th AUGUST, 2018
OPENING  REMARKS BY ARCHBISHOP IGNATIUS A.KAIGAMA
Instead of the usual long and  formal protocol, please permit me to simply address you as brothers and sisters.
We are here at the Dialogue, Reconciliation and Peace (DREP) Centre, Jos, for an interfaith prayer session involving Muslims and Christians; to lift up our hands in supplication to God Almighty and Creator for greater peace and harmonious coexistence among all the people in Plateau State and indeed Nigeria. This event as far as I can recall is the first in recent times,  namely, that Christians and Muslims are coming together to jointly ask for God's blessings as well as his forgiveness for the social, political, ethnic and religious conflicts witnessed in our State.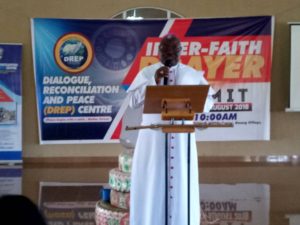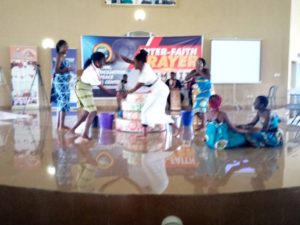 We are all agreed that the sanctity of human life has been violated by the killings witnessed at different times and in different places in our peaceful Plateau State. Lives have been lost, homes destroyed, means of livelihood ravaged and internally displaced people found in camps or on the streets. The greatest casualty is our mutual trust. Due to lack of genuine trust between some ethic communities as well as between some  Christians and Muslims in the State, settlement has been polarized, suspicion heightened and appears to dominate our interpersonal relationship. We need healing of our self-inflicted wounds and we need God to help us out of this  predicament since we have realized that guns, cutlasses, bows and arrows, spears, charms, etc cannot bring peace. Government,  no matter its good intentions, cannot decree peace or harmonious coexistence. The security agents no matter how they flood the streets or bushes armed with sophisticated weapons cannot bring about peace until we all decide freely from the depths of our hearts that we truly want to live together in peace as brothers and sisters created by God.
Even if we have different cultural  values and religious mode of worship, we are still united by a common humanity with God at its source. This is the message we must pass on in our families, schools and places of worship from generation to generation.
As communicated  in the  letter of invitation, the  Dialogue , Reconciliation and Peace Centre has been engaging the Community/Religious Leaders and the different Stakeholders in the affected communities in Plateau State. During the last dialogue session on 5th June 2018, the stakeholders agreed on the need for us to jointly seek divine intervention and so an interfaith prayer session  was agreed upon. I am happy that the day has come and we have turned out in good numbers.
This  prayer gathering is to seek divine help in rebuilding the broken relationships and to promote reconciliation between communities affected by violence.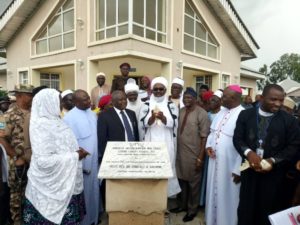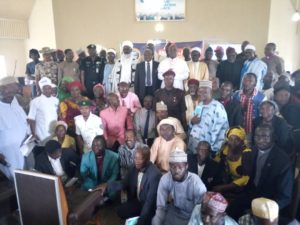 Today is no time for long speeches. It is a sober moment to bow  our heads in fervent prayer and to confess that we have sinned before God and offended ourselves and planted the seeds of impatience, intolerance, distrust, disrespect, murder, etc in our children and youth which we must uproot and replace with the virtues of love, trust, peace, mercy, justice, respect for the sanctity of life, etc. We cannot achieve this on our own,  hence our gathering here together to plead for God's mercy and forgiveness.
It is important to note that  a short prayer has been jointly composed and endorsed by some Christian and Muslim leaders to be prayed jointly by all of us in the same manner we recite the national pledge or sing  the national anthem, which we always do as one people irrespective of our cultural or religious difference and I believe that it is by coming together more often, discussing, reflecting and praying together; visiting each other's homes and places of worship that religious misunderstanding and tension will substantially be reduced.
In the attempt to compose this joint prayer, it became for instance clearer that while we Christians call God Father, Muslims are not allowed to call God Father. In Islam we are servants of God and not children of God as Christians say and for Muslims we can sin against God only, but we offend one another.
The point I am making here is that if we Christians and Muslims understand ourselves better by closer interaction and collaboration, we can avoid offending one another or competing for supremacy and so we will be able to construct the much needed peace, and progress in every sense will be the natural consequence.
May God hear our prayer for Plateau State and indeed Nigeria today and always. May he help us too to expose criminals among us even if they belong to our ethnic or religious groups because their activities have contributed in no small measure to the tension and conflicts that are sometimes tagged religious.
It is our hope that Christians and Muslims will always genuinely unite to fight social vices and use the values of our respective religions to promote integral development in our State and our nation. The recent heroic example of Imam Abdullahi Yalwa in the Barkin Ladi area who at the risk of his life saved many Christians and Muslims in his mosque from being killed by attackers is a very good example of enlightened and God-fearing behaviour and a model of genuine Muslim/Christian collaboration.
Help us God with your peace and may we witness no more the destruction to lives and property in our dear Plateau State. Amen.