NEW BISHOP ORDAINED & INSTALLED FOR BAUCHI DIOCESE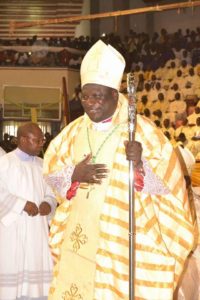 The Right Rev. Hilary Nanman Dachelem, has been ordained and installed as the 3rd Bishop of the Bauchi Catholic Diocese.
He succeeded Late Bishop John Goltok, who died in March, 2015.
The President, Conference of Catholic Bishops of Nigeria, His Grace, Most Rev. Dr. Ignatius Kaigama, who installed the Bishop, called for unity among Nigerians irrespective of religious, cultural or ethnic differences. 
Most Rev. Dr. Ignatius Kaigama was speaking at the ordination of the new Bishop of the Bauchi Catholic Diocese, Dachelem held Thursday, August 17 2017 at the Multipurpose Indoor Sports Hall, Bauchi. 
He said: "the call for secession by some groups in the country is unhealthy for Nigeria.  We are better together as one United and indivisible nation". 
Kaigama described the new Bishop who speaks several Nigerian languages including Igbo as a bridge builder "and I believe he will use his wealth of experience and position to unite all Nigerians in the Diocese."
The inauguration attracted the presence of Papal Nuncio to Nigeria, Antonio Guildo, John Cardinal Oneyekan, as well as 69 Bishops across the country. 
Other dignitaries include the Plateau State Governor, Simon Lalong who was represented by the Commissioner for Lands, Survey and Town Planning, 1st civilian Governor of Plateau State, Fidelis Tapgun, former deputy Governor of Plateau State, Pauline Tallen and many other dignitaries across the world. 
Bishop Dachalem, appointed by Pope Francis on 31st May, 2017, was Parish Priest of Saint John Vianney Parish Kwande, Benue State. 
In his inaugural speech, the new Bishop, thanked friends and faithful across the world who came to celebrate them and promised to carry members of the Diocese irrespective of ethnic differences.