INAUGURATION/HAND OVER TO THE NEW PRESIDENT OF CATHOLIC BISHOPS IN NIGERIA, 22.02.18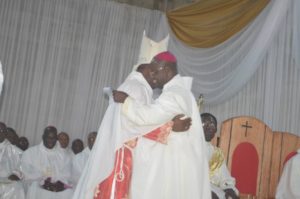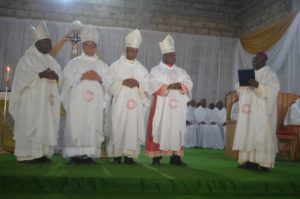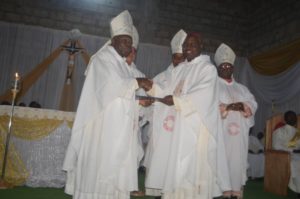 Inauguration and handover to the new President of the Catholic Bishops in Nigeria, Most Rev. Augustine Akubeze, 22.02.2018,  during the closing Mass of the 1st Plenary, at St. Charles Lwanga Parish, Abuja.
Acceptance Speech by Archbishop Augustine Akubeze at the First Plenary of  the CBCN 2018 in Abuja
1. Introduction:  Jesus words to his disciples in the Gospel of Matthew 20:25-28 states and I quote: "But Jesus called them to him and said, "You know that the rulers of the Gentiles lord it over them, and their great ones are tyrants over them. 26 It will not be so among you; but whoever wishes to be great among you must be your servant, 27 and whoever wishes to be first among you must be your slave; 28 just as the Son of Man came not to be served but to serve, and to give his life a ransom for many." We want to strive to make this command of Jesus our guide in our provision of leadership as we serve your excellencies during our tenure for the next four years.
On behalf of my brother bishops who with me constitute the new CBCN executive we want to thank God for giving us, unworthy as we are the opportunity and the rare privilege to serve you and by extension the Church in Nigeria. We thank all of you for the confidence you have in us by electing us to the various positions. We assure you that we will do our best relying on Gods grace to ensure that this body continue to perform its statutory functions in the face of contemporary challenges. As your servants we will be very open to diverse opinions and we will seek to build consensus on matters that requires collective decisions. We appeal to all of you to continue to ensure that we speak with one voice on crucial matters that affect the life of the Church.
2. Gratitude to the Past Administration: I will like to thank Archbishop Ignatius Kaigama and all those who worked with him during his tenure as President of CBCN. You have left the office and the CBCN stronger than you met it. Under your leadership you have brought all of us together to pray for unity of the country. You led us and the entire faithful to re-consecrate Nigeria to the Immaculate Heart of Mary in Benin City on 13 October 2017.
Your Grace, it has been an honour and a great privilege working under you. Many of us have learnt a lot from you. Your courage to make tough decisions, your willingness to forgive, your openness to diverse opinions, your fidelity to the teachings of the Church and the love with which you enforce the laws of the Church has been amazing. Your struggle for justice and peace in our land is highly commendable. Your Excellency, you are leaving this office with great achievements. We will not be able to exhaust the list if we want to name them. We are aware of the level to which you have moved Veritas University under your leadership. We are aware of many meetings you held to reconcile people and groups in the Church. We are aware of your many travels to Rome and other parts of the world to represent Nigeria. It is our prayers that God will continue to bless you and those who served under your leadership. Be assured of our prayers. Your Excellency know that from time to time we will be consulting you for guidance because you have become an elder among elders. As a mark of respect for you and the members of the executives of your regime, we enjoin all of you to please stand up while Archbishop Ignatius Kaigama and his out-gone executives remain seated. (Please let us give them a standing ovation). Thank you for everything you did for the Church in Nigeria, thank you for representing the Church in Nigeria, thank you for the honour you brought to the Church in Nigeria. Thank you. Please be seated.
3. As we begin our administration, I will like to note that I am a little luckier than Archbishop Ignatius Kaigama. I say this because I have more past CBCN Presidents to consult than he had. Now I have the privilege of tapping from the wisdom and experiences of His Eminence Anthony Cardinal Okogie, His Eminence John Cardinal Onaiyekan and His Grace Most Rev. Dr. Felix Alaba Job and His Grace Most Rev Dr. Ignatius Kaigama. You see, while Kaigama had three past presidents to consult, I have four past presidents to consult. I am sure that with their advice and the collective wisdom of all my senior brothers in the Episcopacy and my other brother bishops, we will not fail the Church in Nigeria.
4. In a special way, we thank our host prelate, His Eminence, Cardinal John Onaiyekan, his Auxiliary, Most Rev. Anselm Umoren, MSP, the priests, religious and the good people of Abuja Archdiocese for always creating an enabling environment for our first plenary in the year. We appreciate the warm welcome you always accord us. May Almighty God bless and reward you and the entire faithful of the Archdiocese.
5. Conclusion: Once again, I say thank you for the confidence reposed upon us to serve you. We entrust ourselves to our Lady Queen of Nigeria as we begin our tenure. We ask her to intercede for the Church in Nigeria so that peace, unity, progress in understanding of her Son will continue in our land. Thank you for your attention. May God bless all of us in our service to his people. Amen.