4TH CONVOCATION OF GODFREY OKOYE UNIVERSITY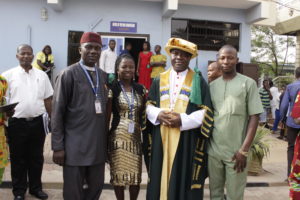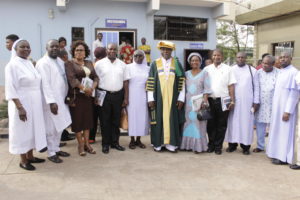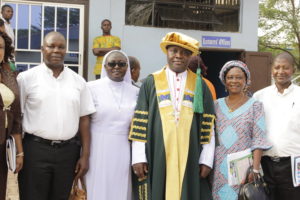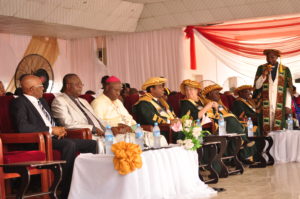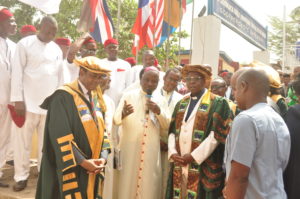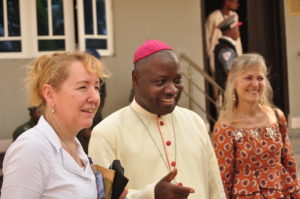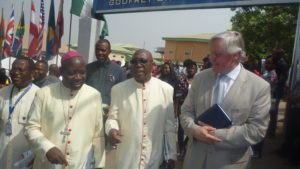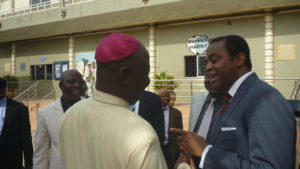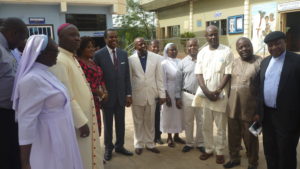 THE CHANCELLOR'S ADDRESS AT THE FOURTH CONVOCATION OF GODFREY OKOYE UNIVERSITY, ENUGU, 25. 02. 2017
PROTOCOL… faculty, staff, honored guests, parents, students, families and friends—good morning and congratulations to the Godfrey Okoye University graduating class of 2016!
One of my greatest joys as the Chancellor of this  University is that I have the honour and privilege to be associated with a visionary, vibrant and pace-setting University where destinies are born and nurtured, where lives are shaped and where leaders are made.
It is that time of the year again; when we gather to celebrate students who mark the end of a journey and the beginning of another; to cherish the fruit of their  years of hard work and commitment. We do so in a spirit of gratitude to God, the one who is the keeper of life and the source of every blessing who makes all things beautiful in its time (cf. Eccl  3:11).
We extend hearty greetings and gratitude  to parents, both biological and academic,whose generosity and sacrifice have brought these convoking students who fought the good fight and have today won the crowns  of a variety of academic degrees. They faced  with equanimity, patience and trust in God the usual challenges students face and today they qualify to be called graduates and ex alumni of this our noble institution.
You the management and staff of Godfrey Okoye University have demonstrated sincere commitment and remarkable selflessness in service to bring about  the numerous achievements recorded in the past academic year. God bless and sustain you in good health and sound mind.
My dear young people, you are our treasure, the hope of Nigeria and indeed the world, a world that seems to be darkness, our country assaulted by incurable corruption and many social vices with crippling negative consequences. 
I know you are excited and anxious to launch out into the wider society but I must tell you the truth; life is hard out there. You will find out there the good, the bad and the ugly. There are economic problems.  There is inflation now. Things are difficult, people are grumbling, people are hungry, suicide bombers have not stopped their actions. Innocent Nigerians are dying daily of herdsmen attacks in Southern Kaduna, Borno State, Taraba State and many other parts of the Country.
For the slightest misunderstanding whether on religious, political or ethnic grounds some Nigerians are ready to engage in the gruesome murder of fellow Nigerians! It is a great pity that the younger generation in Nigeria is growing with an unfortunate impression that life is very cheap and can be taken away at will.
Godfrey Okoye University as your mother has nourished and nurtured you in her womb for the past 4 years and now she releases you, to go out and start your life, so to speak. As products of this University which is "the champion of love and friendship", as we sing in our University anthem, you have, loaded in your quiver, arrows of love, peace, tolerance to counteract the evils that have littered our world today. It is time to put into practice, all the virtues you have learnt from the formation you received here, all the life skills, survival strategies  and the diplomacy of interpersonal relationship which characterized your training in this University. Be brilliant  stars shining in the dark.
I salute the leadership of Godfrey Okoye University for creating a miniature Nigeria, for bringing young people together from the north and south, east and west of our nation and teaching them the values of our common humanity. 
Speaking passionately to millions of young people gathered for the 31st World Youth Day in Poland last year Pope Francis said, "We, the adults have failed you. We need you, young people to teach us how to live in diversity, in dialogue, to experience multiculturalism, not as a threat but an opportunity. Have the courage to teach us that it is easier to build bridges than to build walls."    
And I add my voice to his, go out there and be different. Challenge deteriorating values of our society. You are candles. Burn brightly wherever you find yourself. Every where is dark. If only each of you would shine your light, Nigeria will bounce back and our common humanity will be restored. Be as St. Francis of Assisi prayed, instruments of peace, sowing love, pardon, love, joy, etc. where you find injury, sadness, despair, hatred, etc.
All your dreams, wishes and life goals will only be a mirage if there is no peace in our society. Where there is peace, there will be development. Your future will be secured. The nation will thrive. You will be free to fly and actualize your dreams. And we will all be happy. 
Now, go out and meet your future! Make it work.Don't sit down, fold your arms and wait for it to happen. Nigeria is waiting for your light. You have a responsibility. Arise and shine! 
As you go, I invoke the blessings of God upon you: 
May the Lord bless you and keep you; the Lord make His face shine upon you and be gracious to you. The Lord lift up His countenance upon you and give you peace! (Num 6:24-26). AMEN.
Your Excellency the Proprietor, the Vice Chancellor, Principal officers, staff, students of GO University, our brand new graduates, benefactors, distinguished invited guests and well wishers, thank you all for your kind attention.
Most Rev. Ignatius Kaigama.